Ingredients
135g

Water

Cold or room temperature

50g

Super fine Wholemeal Flour

Prima or Pilsbury
Directions
I have not baked soft Asian style breads for a while as we have been practicing our sourdough baguettes which we have the taste and texture right, but the appearance still a bit not there. So been working on that a lot. Decided to take a break and bake some soft Asian style Milk Toasts and instead of using my regular soft wholemeal bread recipe using the tangzhong method, I thought I will try something I have saved online to explore more recipes.
The original bread recipe can be found here and it uses all white flour and a bread maker. I no longer have a bread maker, so I adjusted the method to suit my facilities. I did not make any other changes to the ingredients except to replace 50g of white flour with 50g of Prima Super fine wholemeal flour and up the yeast usage a little.
I quite like this wholemeal bread recipe, thus, I am sharing it here with you guys. According to the blog, this is Taiwanese Celebrity Baker, Wu Bao Chun's (吴宝春) award winning recipe. I have one of his books (yet to try his recipes because I am terrible with reading Traditional Chinese) but the toast recipe within was different, and I did not go through other ways to verify if this is really his recipe so I shall not make that claim, neither will I claim it is my recipe lah. Maybe one day, I will try the milk toast recipe in this book and do a comparison with this. Now, I only know the ingredients are different.
Hubby said it tastes better than Gardenia wholemeal bread wor. I don't dare say that lah…But I think it does taste like the Gardenia bread type of texture. It is soft, and for those who want soft breads but do not like to do the tangzhong method because they find it troublesome, this is one wholemeal bread recipe you can consider. Or for those that want a Gardenia like texture. Personally, I find tangzhong breads more like those Yakun Kaya Toast bun type of texture with a  "feathery" tear when you pull the bread apart… More fluffy. So again it depends on what sort of texture you are looking for. Both are good soft bread recipes and both can be made into white or wholemeal bread recipes easily.
For those who do not like wholemeal bread because they find it too coarse, try the superfine wholemeal from Prima. It is so fine that it is really like the Gardenia type and you can hardly taste the rough bits yet it is still healthier than white bread because of the higher fibre content. But then no point changing all the flour to wholemeal because I am sure we all get fibre through other sources as well. Of course wholemeal flour is not just packed with fibre but also more vitamins and minerals but because wholemeal flour will also mean it has a lower percentage of the endosperm which is the starchy part that reacts with the yeast to rise, putting too much wholemeal flour will result in a less spongy bread. So to achieve a healthier and tasty recipe, I usually do not replace more than 30% of the white flour with wholemeal flour.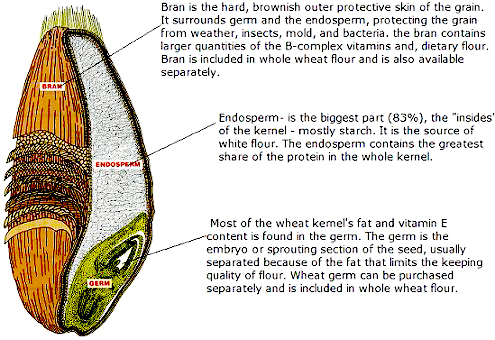 There are many ways to enjoy this delicious, soft wholemeal bread. Besides eating it plain (because it is slightly sweet), we also eat it with Kaya and peanut butter, or toast it at 130C for 10 minutes or so in our toaster for a light crust on top but soft and moist within and serve it with soup.
NOTES ON RECIPE
Ingredients:
As you know, I swopped 50g of white flour for 50g of wholemeal flour. You can use all white if you like. Next time, I may try adding some dried fruits like raisins and nuts. This will be added after the first proofing when I roll out the dough like in my tangzhong bread recipe. I did not use cold water as required by original recipe as by the time the word "cold" registered in my pea brain, I had already poured in the room temperature water. Oops. But I did use cold milk and butter. Learned to read. Not sure if it made any difference….
Proofing:
Proofing time was longer than the blog recommended with the bread maker. I kneaded the dough till it passed the window pane test (about 20minutes) and proofed it for 2.5 hours till it is slightly more than doubled. (first hour, nothing much happened, so I just went out for lunch and left it to proof some more). Proofing in bread makers maybe faster because the temperature is controlled. So if you want to save time, you may want to proof in the oven by placing dough in oven, set temperature to 50C and then turning it off after the temperature is obtained with door closed for 1 hour. I am in no hurry and I try to save on electricity.
Kneading:
This dough actually does not feel as supple and smooth as a tangzhong dough. Ed was the one helping me to knead it after the first proof and he said the dough felt unfinished though it did pass the window pane test. It was a little bit stickier and less firm than tangzhong dough and not as smooth. But luckily it rose well and turned out great!
Update: The dough actually felt normal after I am more patient. It is better to be patient and knead the bread on low speed (1-2) on your mixer until the window pane forms. It will form a clean and neat dough and is easier to manage. So actually my first attempt was not too correct but it still turned our great! Hahaha… pretty forgiving recipe.
Rolling and Shaping:
I also did the process a little differently. After second proof, I rolled the dough into a ball and started to divide the dough into 4 portions (my tin is long). Then we started to roll it out like we will with tangzhong bread. So you have a choice to do it the way mymindpatch did or the way I did it.
Second Proof and Baking:
Second proofing was about 1 hour. After 30 minutes, I started to preheat the oven (mine is a 90cm, so takes about 25 minutes to heat up) and I only needed to bake it for 20minutes at 180C as compared to 28-30 minutes for hers. Everyone's oven is different, so adjust this according to your experience with your oven or just keep checking from 20 minutes. Plus, my bread was longer and flatter, so probably that also meant it need not bake that long.
I forgot to brush milk, but I did the butter. So again, up to you. If you would like a glossier finish, I usually brush with a egg yolk with milk blend.
Please refer to the steps and ingredients for details. Have fun and enjoy the bread! Do share with us your experience and we would love to see your breads.
This is an attempt made by my friend Xinghui using a pullman tin and rye and spelt instead of wholemeal. A success as it is also super soft and tasty.
(Visited 3,530 times, 1 visits today)
Steps
5m

Combine ingredients

Pour ingredients into a mixing bowl in the sequence listed above.

20-30min

Knead on Mixer

Knead the dough on mixer on low speed pulsing carefully initially to prevent flour from flying.
Once combined, continue kneading at speed 1-2 for 10-15 minutes or until it passes the window pane test and form a neat ball of dough.

2h

First Proof

Once dough passes window pane test, remove dough hook and scrap down sides of the dough with a scraper and cover with towel.
Leave mixing bowl in a dry and warm place for 2 hours or till dough doubles in size.

5m

Portion

Lightly dust the table top.
Remove the dough from the mixing bowl with the help of a scraper.
Dust the surface of the dough with some flour if needed.
Shape into a ball and divide into 4 equal portions.
Roll each portion into a ball.

5m

Shape

Roll out each portion of the dough with a rolling pin to form a long oval.
Fold in left and right side of the dough to form a skinnier oval.
Use the rolling pin and roll out this dough to an even longer strip.
Then roll the dough up like a swiss roll, sealing in the ends by pinching it lightly.
Place each rolled dough into a non-stick baking pan, with space in between thus giving them space to expand and rise.

1h

Second Proof

Cover the pan with shrink wrap, clean kitchen towel or wet towel or put it in a big clean bag and place in a warm and dry place for 1 hour or until double in size.

If you are using a pullman tin, cover with cloth till about 90% to top of pan and cover with lid. Bake 30min.

20m

Preheat Oven and bake

Preheat oven 30 minutes into the proofing time (or however long your oven needs to preheat usually)
Once the temperature is reached, brush the bread lightly with milk or milk and yolk mixture or simple leave it naked.
Bake in oven on middle rack for 20-30 minutes depending on shape of bread and oven heat.
Once brown on surface, remove from oven and brush with some softened butter (optional)
Remove from pan and cool.
Personally, I like to eat the bread slightly warm. I think that is the best time.