Interesting Things to Do in and around Berlin
Recently, we went to Germany for 8 days and spent our time in East Germany, mostly in around Berlin with a few days in Dresden and Saxony Switzerland (which is not in Switzerland but near the borders to Czech Republic).
Some people claim that Germany is pretty boring compared to Paris or Rome because there is no exciting shopping or glamorous places to visit or good food. Honestly, coming from urban Singapore, do we really need more shopping? I am sure many of us don't want to fly across the globe just to shop. Having said that, I will put together some suggested items you can get while in Germany.
Here, we hope to show you how fun Germany can be, especially if you enjoy nature, castles, food, history and of course do some shopping. The problem with looking for travel information for Germany is that there are not many English sites around. Especially for hikes. Luckily we had the help of our friends in Germany. So here, we hope to share some information to make your trip planning easier and visit places that goes beyond usual city stuff.
This trip was really a good balance of rest, food, culture, history and nature and we are really happy to cover so much yet be so well rested over 8 days. =) Usually if you travel to so many places, you are pretty knacked by the end of the trip. I think this is thanks to my dear friends Hweeling and Sebi for taking us around and planning the trip so we could really just sit back and relax.
June in East Germany is fantastic! Long days that stays bright till 9pm, cool in general and even when the sun does come out in full force on a couple of days, it was dry, albeit scorching. Sitting in humid Singapore as I type this, I am already missing it.
It is not my first time in Berlin, but most of the things we did, I am doing for the first time or did not even have time to do yet! So imagine how much there is to do in Berlin! I have put together a list of fun things we did wish we had time to do, as well as list on food to eat (not because we love to eat but because this is important cultural exposure =P).
Fun things to do in/ around Berlin:
Bike Tour
We did a tour with Fat Tire Tours (I also did their tours for Barcelona and Paris) and as usual, the tours were informative, fun and it is always cool to cycle through the city in a big group and stop traffic. =P (The guide did the stopping) Berlin is very bike friendly and it is really fun to cycle around. I am not a good cyclist but the bikes used in Berlin felt easier to use that in Barcelona These bikes were so  stable, most people who have cycled 2 hours in their lives would probably be able to do this.
This 4.5 hour tour started from 10am till 3pm with a lunch break at a beer garden in the Tiergarten (refer to pt 5 below). The tour covers most of the key historical places in Berlin, giving you a quick lesson on German history from the Prussian wars to WWII and the fall of the wall. I had taken a walking tour in my first visit and I was totally impressed with that. But I must say that that did not cover as much information as this tour. Not surprising considering that this is 4.5hours long while that was probably 2-3 hours long. It helped that the weather was great.
There is usually enough time while the guide is dishing out information for you to take some photos. In some sites, they also allowed us to walk around to take some photos. If this is still not enough, I am sure you can always come back for more photos. There are a few other companies that offer bike tours but since I have not experienced them, I will not review.
The tour costs 26 Euros per person with bike and you can extent your rental for your own biking pleasure if you wish at the end of the tour. They even provide sunblock for hot days and they have a variety of bike tours including one to Potsdam.
2. Walking tour
One thing we love to do when I visit most major European cities is to join a walking or cycling tour. It is the fastest way to get to know the city and understand it's culture, little quirks and stories past and present, as well as the interesting places. It gives an overview so that you can then decide how to plan the rest of the trip. I did a very impressive walking tour in Berlin when I last visited 13 years ago and it made me fell in love with this city and walking tours. This is a great alternative if you don't like to cycle or you don't have 5 hours to spare. Companies that you can try include Insider Tour Berlin, Original Berlin Walks, Original Berlin Tours, and many more. You can take a look on Tripadvisor to shop for the tour that you think best fits your needs.
3. Underground Tour
We did not get to do this tour partly because I found it too late. In my last walking tour, we visited a small section of the underground tunnels used in WWII. It was pretty amazing as basically a lot was going on underground during WWII, including Hitler's own bunker which is now inaccessible. Do let me know your thoughts if you managed to do it. I would love to do it on my next visit.
4. Reichstag Building
This is the current Parliment house of Germany and what is so interesting you may wonder? The original was burnt by Nazis to put the blame on Communists so that they could gain total power in Parliment. This building was rebuilt after WWII to show that German politics is transparent and open. Thus, not only is this building open for visitors to visit after you register online (it is very popular so either you book early or you check the day before or on the day itself for last minute slots released), you can also register to listen to the parliamentary sessions that are conducted there, if you understand German.
On top of that, you can have a good 360 degree view of Berlin from the huge glass dome and a cool recorded commentary in a variety of languages on the history and design of not just the Parliament house, but also some of the buildings in sight. Plus the architecture is pretty cool.
5. Topography of Terror
This is a free indoor and outdoor museum located at the site where the Gestapo and SS Headquarters were to document the horrors that took place during WWII as well as the cold war. Next to it is a section of the Berlin Wall still left standing as a reminder. This is not just a piece of German history, but a reminder to all mankind on the horrors of division, intolerance, and discrimination. I think in times like now, it is all the more important that we are reminded on that. I did not find the exhibition as grim as the Ann Frank museum I visited in Amsterdam. But it is interesting as it revealed the discrimination was not just against Jews which most people are aware, but also of disability, LGBT, and other colour races, and also how the German government and people really tried to right the wrongs that was done and prosecute those involved.
6. Lake Werbellinsee
This lake is located in the biggest woodland area in the whole of Europe, Schorfheide, just a short ride from Berlin. It makes for a lovely day hike/ cycle and great for hot summer days (shaded wood areas and ice cold lake water). Around the lake, there are a few good restaurants and even a summer school for German kids. If you have a day to spare, this is a great way to unwind, enjoy nature, and have some quality German food. The hike is very easy and flat, great for kids.
We started with a boat ride from cafe Wildau to the other side of the lake and did a 16km walk back. In between, we had lunch at a nice restaurant near a cluster of beautiful holiday homes and a little dip in the very cold waters before heading back to our start point for a nice relaxing dinner.
Germans love to swim or sunbathe naked and it is legal. So if you always wanted to swim naked in the wild, this is a great place to do it. If not, there is always the tiergarten.
From Berlin Central Station to Cafe Wildau Hotel and Restaurant, take the RE3 Stralsund. Get off at Eberswalde Hbf and walk over to Eberswalde, Busbahnhof and board 910. At Finowfurt, Krezung, transfer to 905 GroO Schonebeck via Eichhorst. Get off at Eichhorst, Askanierturm then head south on L220 and turn left towards Wildau and you will soon see the sign for Cafe Wildau. If this is too much traveling for you, rent a car or just enjoy nature in central Berlin at tiergarten.
7. Cycling/ Walking or lazing in the tiergarten
If you want to enjoy nature in Berlin, you actually don't have to travel far. Tiergarten is one of Germany's biggest Urban parks and it is located right in the middle of Berlin. This is a lovely park that offers some cool respite from the heat in summer while allowing you to enjoy loads of greenery, peace and culture. We enjoyed cycling through the park and having great German food at the Schleussenkrug. This is a beer garden with a grill and a kitchen offering a variety of delicious vegetarian and non-vegetarian food. Beware of the grumpy chef at the grill though. It was pretty amusing how he is just so angry with the long line he has. Speaking of which, Germans don't really have customer service, neither do they expect tips.
As we cycled through, we saw people sunbathing in the buff, reading and lazing around. Just don't stare. It is rude. Other cultural aspects include statues of ancient hunts as this was the old hunting grounds for the electors and royalty. Furthermore, the park is next to the Victory Column built since the Prussian wars, the Bismarck memorial, etc and a stone's throw from Brandenburg Gate (the former city gate of Berlin, and also famed because of Hitler's famous propaganda shot of legions of armies just walking through the gates).
8. Berlin Zoo
Many Singaporeans feel that our Singapore Zoo is the best in the world and it is hard to find another zoo worth visiting other than the safari probably. Well, Berlin Zoo with about 1,500 species of animals, actually boasts the most comprehensive range of animal species in the world. So, this is a zoo worth visiting. We didn't have enough days, but would love to when we are back. We only managed to catch some of the animals that are housed next to the tiergarten during our bike tour. Do share your thoughts on the zoo if you have visited it. Be prepared to walk a lot though.
9. Dresden
If you want to be surrounded by quaint and beautiful 12th-18th century buildings, Dresden is such a beautiful ancient (looking) city about 2 hours away from Berlin by train. It was the capital of the free state of Saxony in Germany, located next to Czech Republic, and a prosperous city furnished by the Kings of Saxony. We took a 2 hour walking tour under the scorching sun (there was only one other crazy ABC besides the 2 of us so the guide asked if we wanted to do this tomorrow instead. LOL) and it was very informative and allowed us to appreciate the place so much better.
The old town area received 39,000 tonnes of bombs during WWII and totally wiped out many historic buildings. Fortunately they were restored due to historical value and it is now a beautiful city. We were really amazed at the restoration efforts. This is a nice break from the duller utilitarian looking architecture of Berlin. Across the Elbe river is the new town where it is less touristy. The Elbe river also offers a nice place for joggers, bikers, picnickers and even an outdoor movie theater.
Many lovely restaurants here with good food. We had some at Augustiner an der Frauenkirche (authentic German food from many parts of Germany), Restaurant Daniel's (modern German and French style cooking using German seasonal ingredients located at new town), Grand Cafe und Restaurant in Coselpalais (French / German food but I think their German is probably better. )
10. Hike in Malerwerg Trail (Painter's Way) Saxony
Since you are in the vicinity of Dresden, then may as well take a hike in the famous Malerwerg Trail or Painter's Way is a 112km long trail through the beautiful Elbe sandstones, passing through a few towns. You do not have to do the full hike of course. The hike is broken down into 8 stages. We chose to do only 1 stage (stage 2) with the highlight being the famous Bastei Bridge connecting the towering Bastei rock formation 194m above the Elbe river. The hike was moderately taxing as there are a lot flights of stairs and ascends.
You can arrive at Rathen via a 30min train ride from Dresden Central Station to Rathen station. Very accessible.
11. Potsdam
Potsdam located about 30minutes train ride away from Berlin city center and is the capital and largest city centre of the Brandenburg region. This was where the Prussian Kings and the German Kaiser resided till 1918. The Sanssouci Palace was a former summer palace of the Prussian kings and supposedly compared to the Versailles in France a lot but it is really a lot smaller and of a different style. We did not manage to see this, and again will be on our wish list for next visit. Fat Tire and other tour companies in Berlin offers a Potsdam tour starting from Berlin and I think that is a great way to visit.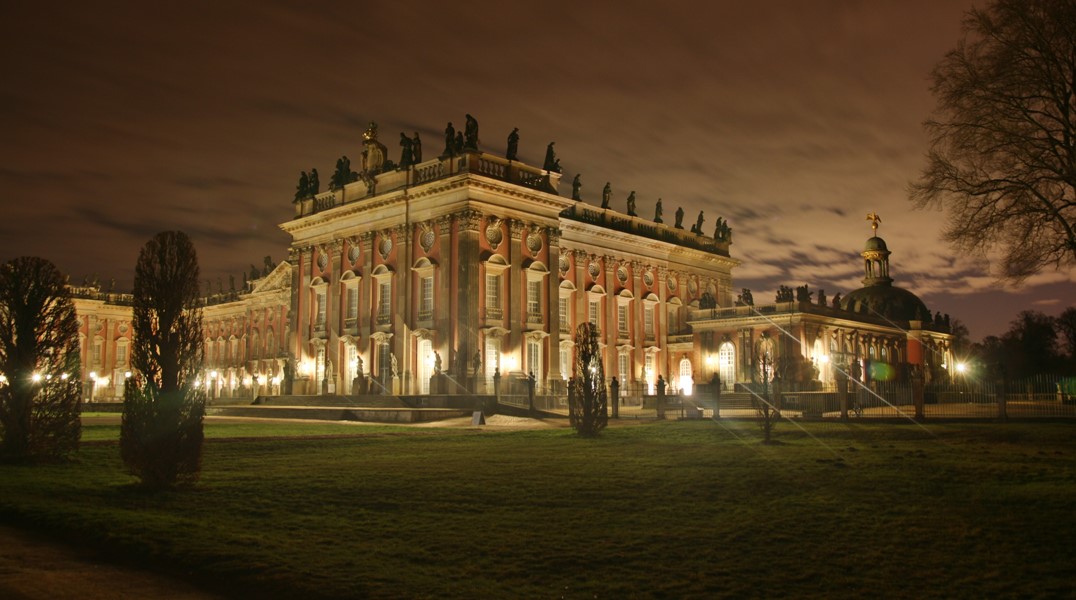 12. East side Gallery
This is an international memorial for freedom, using the Berlin Wall. How apt. This 1.3km wall located near the center of Berlin is filled with murals (graffiti) that promotes love, peace and freedom by a number of artists. BTW, Berlin is the city of graffiti and there is even a walking tour on the Berlin graffiti. This will be a fun tour if we have a few hours to spare.
13. Visit a Concentration Camp
Again, we did not have time for this as it was just out of Berlin. I think it will be interesting to learn about the horrors of what men can do to each other under command and under belief and it is a reminder that we should not let this happen again. It is definitely pretty dark and our fat tire guide said, really disturbing. So if you think you are up for it, and would like to understand the horrors or discrimination, war and blind following, then do visit the camp. I would like to believe that a lot of what was done during WWII or any war is because one got lost in the wrong belief and blinded them to being humane. Still applies to the wars we fight today.
(Visited 386 times, 1 visits today)